Ad blocker interference detected!
Wikia is a free-to-use site that makes money from advertising. We have a modified experience for viewers using ad blockers

Wikia is not accessible if you've made further modifications. Remove the custom ad blocker rule(s) and the page will load as expected.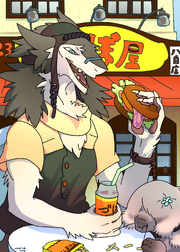 ZUvo restaurant(ずぼ屋) is popular hamburger chain restaurants in Tal. "Zuvo" means "hamburger" in Tal.

There are 800 stores from big store to a small store, in Gold Ring.
A fish menu is popular as main. A meat menu that there is only in the large store is expensive, but is extremely popular.
The class of visitors is wide, regardless of race, gender, and age.
Nevreans tends to prefer meat menu, and sergals prefer fish menu.

ZUvo's vegetables are brought up by the huge press-like machine's paper that was sprayed a fixer and a mineral that a plant can grow somehow as the seedbed. It grows up at normal triple speed by a growth stimulation ingredient and genetic modification, can harvest them at the time when nourishment of the paper disappears. Therefore its crop rate is good, but its nourishment is more unbalanced than common vegetables of the cultivated area cultivation.

ZUvo restaurant is called as the pronoun of the chain restaurants in Tal, but it is robbed of some visitors by the "Otsukemono shop" that is shop of pickles, because the health conscious among youth rise recently.


| | |
| --- | --- |
Useful Links
Terms of Use and Copyrights
What's the Vilous?
Canon
Vilous Terminology
Vilous Chronology
Races and Creatures
Places and Those Culture
Foods
Original Stories Characters
The World of Vilous Novella
The World of Vilous Comics
Paid Contents of Vilous