Yung Yagili

Yung

Gender:

Female

Species:

Faction:

N/A

Canon:

Creator:
Yung Yagili(矢桐ゆん) for real name, or Yun-Yung(ゆん=ゆん) for nickname is female Nevrean character from the New Age. Her name used to be "Dot" when she was appeared for the first time. It got turned down for her actual one.
She also used to have bird-like, long slender legs when at the beginning, but is now keeping true to the New Age Nevrean canon. Hence her now new raptor-like legs similar to the ones a Deinonychus would have.

New Age
This article contains information classified under the New Age
canon
.
The female Nevrean having a black feather and a red bill and horn.
She usually covers the face with a mask and goggles.

She appears frequently in the neighborhood of the Gold Ring city, but all her birth and parentage and position are unknown.
Some people say rumor about her;
"She does not belong to the group, plans a thief and rebellion activity alone."
"She belongs to the promotion group (the thing which youths of Nevreans gather for) of the Gold Ring city by anonymity, and engages in music activity."
Various rumors fly. But, nobody knows her true information, true identity.
She is active for a great ambition. But even herself is unawareness about it probably.

Quu the male Nevrean is her old friend.

Most about her personality are mystery too.
She is cruel person with a foul mouth and cowardly, She is unexpectedly caring in fact, She is Extreme masochist, She is member of New-wave Nevreans in city, ect...
There are various reports about her. However, it do not become clear whose is true.
It is not clear whether they are the same people too.



Gallery
Non-Canon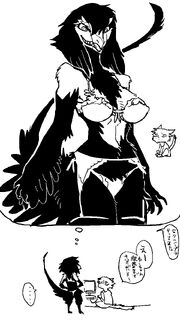 Note: This setting was made by Mick39, but this belongs to Non-Canon now.

Symbolically, Yun-Yung represents the "Elder Sister" of a "Family" of sorts. Rain would be the "Terrible Mother" and Jakk the "Younger Brother." Yun-Yung and Rain Silves are fateful enemies.
She appears to be a great marksman, very skilled with a bolt-action rifle, and has access to some high-tech equipment like her visor.
She is a narcissistic, sarcastic person with a foul mouth, masochist on top of that and is described as a cowardly, self-centered being, who, though also happens to be a skilled engineer.


Ad blocker interference detected!
Wikia is a free-to-use site that makes money from advertising. We have a modified experience for viewers using ad blockers

Wikia is not accessible if you've made further modifications. Remove the custom ad blocker rule(s) and the page will load as expected.