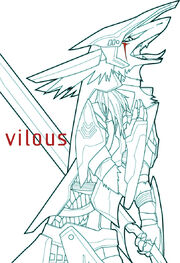 Important Announcement
Our Vilous Official Wiki is moving to new Wiki in vilous.net from here wikia.
In future, all current information will be published at new Wiki. Vilous Wiki in wikia will be old wiki, and stop all update. Please understand.


The Gold Ring Wiki is a collaborative wikia about everything related to the world of Vilous (ビロウス), the famous science-fantasy setting created by Mick39!

It has gained a large fanbase over the years, particularly due to its most famous character, the General Rain Silves and her species, the Sergals.

As this wiki is still under construction, pardon our dust!

Important note: Information comes earlier on the japanese pages. There's actually some delay when it comes to english updates due to translation.
As a result, we are recruiting people who know correct Japanese and English to make translation work go faster.


Useful Links
Terms of Use and Copyrights
What is Vilous?
Canon
Vilous Terminology
Vilous Chronology
Races and Creatures
Places and Their Culture
Foods
Original Story Characters
The World of Vilous - Novella
The World of Vilous - Comics
Paid Contents of Vilous


Special Link
Vilous Fandom Wiki
All Fan-Stories and creations go there! Any Fan-Stories that was on this site has been moved to the Vilous Fandom Wiki.
Ad blocker interference detected!
Wikia is a free-to-use site that makes money from advertising. We have a modified experience for viewers using ad blockers

Wikia is not accessible if you've made further modifications. Remove the custom ad blocker rule(s) and the page will load as expected.