The comics series of Vilous daily life in Gold Ring
Talk

0
Share
Ad blocker interference detected!
Wikia is a free-to-use site that makes money from advertising. We have a modified experience for viewers using ad blockers

Wikia is not accessible if you've made further modifications. Remove the custom ad blocker rule(s) and the page will load as expected.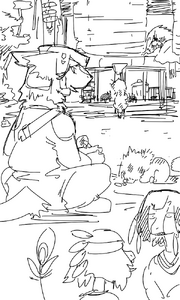 The one of original comics Mick39 created about the New Age World of Vilous. This is peaceful and funny story about the daily life in Gold Ring after Vilous world-war that is submitted on Mick39's Twittermainly.

日本語: ゴールドリング日常漫画


Story line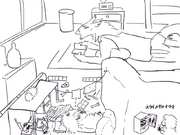 The daily life story in Gold Ring of the Mr. Yaji who is Eastern Sergal and the Cracked who is Talyxian-Stalker named "Fuwafuwa(フワフワ)", means "Fluffy".
Mr. Yaji and Fuwafuwa's life
Fuwafuwa meets Mr. Yaji
Cub Cracked was forced mating by two male T-stalkers, "Boor" and "Cap". But then, she was helped by Mr. Yaji. Therefore they came to live together.
Yaji calls Cracked "Fuwafuwa".

Fuwafuwa goes to hospital (Creepy Scab)
Mr. Yaji goes to a hospital with Cracked by having found creepy scab in her body.
Note: Read from right to left.

Mr. Yaji's daily life
Note: Read from right to left.

Other Mr. Yaji and Fuwafuwa's Gallery
Note: Read from right to left.

Old days of each
Mr. Yaji's old days
In old days, Yaji worked in the Primitive creatures measures branch office.
But he was some self-conscious and wanted to look good when he was young, he came to have the left foot numb by the paralytic poison due to the tentacle-creature that he got carelessly.
Therefore a trouble came to be reflected on his work, so he changed his job to a common guard.

Fuwafuwa's old days
Cracked was bullied by sergal children who can call brat.
Extra Edition
One day, Cracked was in such condition. Mr. Yaji goes to a hospital with Cracked. But unexpected event happens...
Other Useful Links
Terms of Use and Copyrights
Vilous
Canon
Living Things
Places
Tal
Original Stories Characters
The World of Vilous Novella
The World of Vilous Comics
Paid Contents of Vilous