This article contains information classified under the Old Age
canon
.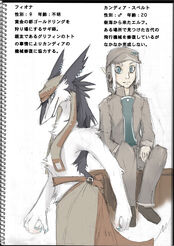 This is an untranslated part of Mick's original World of Vilous novella. Translation by anonymous was announced but is so far unconfirmed.
Male Judda
Svelte came to the city of Gold Ring to make money for restoring an "ancient flying machine". As a Judda he is 20 years old but still a child, however, he doesn't want to be treated as one.
Aar
Male Nevrean
Aar is a priest of the Midori Flame and father of Toto. He's worried about Candias "flying machines", because he thinks they might be an insult to the sacred sky.
Toto
Female Nevrean
Toto is the daughter of Aar. She refuses to succeed him as priest of the Midori Flame.
Female Sergal
Fiona is a fraudster who lives in the city of Gold Ring.
Vanku
Male Nevrean
Vanku is a priest of the Midori Flame.
Erin
Female Nevrean
Erin is a younger sister of Vanku. She enjoys collecting minerals.
Ad blocker interference detected!
Wikia is a free-to-use site that makes money from advertising. We have a modified experience for viewers using ad blockers

Wikia is not accessible if you've made further modifications. Remove the custom ad blocker rule(s) and the page will load as expected.